SEPTEMBER 11 – 16, 2023 – SOLD OUT
We are interdependent beings.
Our wellness is co-created through trauma- informed space and shared authentic experiences.
JOIN US IN SEPTEMBER AND RECEIVE YOUR TRAUMA INFORMED TRAINING CERTIFICATE FROM MINDFULLY EMBODIED
10 SPOTS AVAILABLE – SOLD OUT!
For facilitators, embodiment coaches, healers, practitioners, and guides looking to have the skills and confidence to know how to work with trauma that may arise with your clients.
We will move together through the integration of didactic, experiential and expressive modalities and learn the layers of the nervous system.
You will develop your own relationship to the most integrative body-based approaches including Somatic Experiencing, Dance/Movement Therapy, and Mindfulness, and learn to embody these principles as a space holder.
You will learn how the nervous system regulates our survival through its trauma response, and how incomplete trauma energy gets looped in the body, often guiding thoughts and behaviors without conscious awareness. We will experience moving the energy of trauma through attention, movement and breath, and how to hold a balanced, nervous-system informed container.
At the conclusion of this training, you will have greater insight and confidence on how to apply trauma – informed tools to your own trainings, groups, workshops and retreats.
You will receive a certificate from Mindfully Embodied, and will be trauma informed at an introductory level.
Apply today to be considered for the last 3 spaces.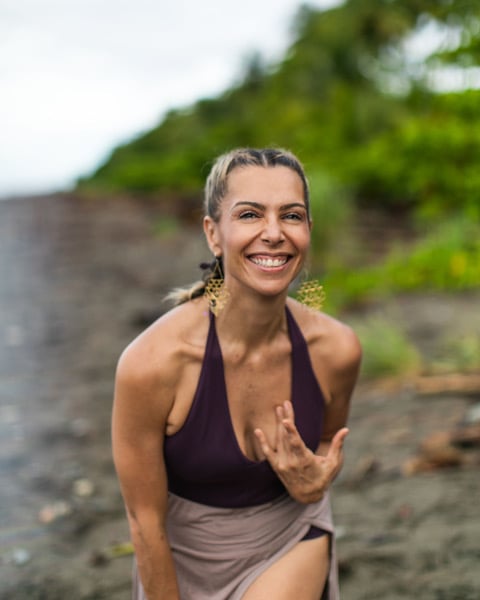 Concetta Troskie Founder of
Mindfully Embodied
psychedelic assisted therapy, trauma and somatic therapy.
Concetta Troskie, MA, LPC-S, BC-DMT, RDT, RYT is the founder of Mindfully Embodied, a private practice specializing in psychedelic assisted therapy, trauma and somatic therapy.
Guided by the innate wisdom of the body, Concetta integrates the unspoken narrative into the spoken, and helps her clients access meaning that would otherwise be lost.
Concetta is currently researching and studying the integration of psychedelic therapies with somatic modalities. She is a MAPS Trainee, a graduate of the Psychedelic Assisted Therapy program at Naropa University, a PRATI trained Ketamine Assisted Psychotherapist, and co-facilitates plant medicine retreats internationally.
Concetta is an advocate and international conference and webinar presenter for the application of expressive arts therapies in the treatment of eating disorders, trauma, depression and anxi- ety. She is EMDR trained, a Somatic Experiencing Practitioner and served as President of the Texas Chapter of the American Dance Therapy Association for 3 years.
All Inclusive Stay at Danyasa for 5 nights – Located In The Heart Of The Dominical, Costa Rica. 
In this 24-hour training, we will experience first-hand the power of somatic teachings through our own bodies, and apply new tools in real-time practice.

You will be able to fully surrender to the experience while all farm to table vegan and gluten free meals are made and served fresh to you every single day and are included in the cost of your training.
king suite with private bathroom
Payments plans start as low as $1000
(depending on when you sign up)
We begin on September 11th with a farm to table meal at 6:00 pm and orientation.
Fly into San Jose (SJO) by 2 pm on September 11th, 2023. Book your return flight September 16th after 12 pm.

Training closes September 15th. Early breakfast served on September 16th before travel.

Danyasa is 3.5 hours from SJO – email reception to support you in organizing shuttles.

If you desire to come earlier or stay later, email reception to book your extra nights.
"…this very body that we have, that's sitting right here right now… with its aches and it pleasures… is exactly what we need to be fully human, fully awake, fully alive."
Apply today to be considered for the last 4 spaces.