Host Your Yoga Retreat at Danyasa
We would love to help you host an unforgettable retreat here at Danyasa Yoga Retreat Center in Costa Rica!
Accommodations-
All our rooms at Danyasa are built from upcycled shipping containers constructed in beautiful harmony with the abundant greenery of Costa Rica. The rooms are designed with your comfort in mind and have wifi, air-conditioning, and premium bedding, while allowing for nature watching in the verdant gardens outside on the room's private deck. Danyasa offers exclusive reservations to one group at a time and can accommodate up to 30 guests on-site, providing an ideal environment for intimate group experiences. However, should you wish to host a larger group, we are affiliated with neighboring hotels within easy walking distance to house additional guests.
Communal Areas & Pool-
There's plenty of space at Danyasa to lay back and relax. Our gorgeous common spaces are exclusively yours during your stay with us. Our mermaid pool (complete with waterfalls!) and sun deck offer perfect spots to relax in the afternoon or to take a post-session evening swim.
We also offer an additional back lounge with a small fire-pit for fire circles and a we offer massage in this zone, as well.
Our Expertise-
Whether your focus is a yoga retreat or training, adventure, or relaxation, we are the yoga retreat center for you! We provide personalized assistance every step of the way, from sharing our practical knowledge and marketing strategies to assisting with travel coordination, meals, and group excursions. Ultimately, we aim to provide an easeful and successful retreat experience for you and your guests.
The Yoga and Movement Arts Studio-
Immerse yourself in a world of bamboo! Our expansive dance and yoga temple boasts gorgeous bamboo floors, half walls for privacy, and bamboo ceilings. A wall of mirrors lines one side, for those dancers and yogis who desire to see their form. The 1300 square foot space boasts a state of the art sound system with wireless headset mic, and the highest quality props for all yoga styles. We also offer 15 aerial yoga rigs for aerial arts and yoga.
Nourishment-
We do our best to source the food we serve from local farms using organic, sustainable, biodynamic, and/or permaculture methods of agriculture. We strive to create a farm-to-table experience that truly nourishes all bodies and hands involved in the process. We believe that by supporting local farmers, producers, and suppliers who share our values, we support our eco-system, economy, community, and environment. All meals are predominantly vegan, locally sourced, with gluten-free options and a beautiful local fish add-on if you desire. We pride ourselves on high quality and fresh ingredients to fuel high energy humans!
Additional Assistance and Activities-
Should you desire to add healing bodywork to your retreat, we have some highly trained bodyworkers who offer different types of massage, cranial sacral and reiki, to offer to your participants. We also offer additional experiences you can include in your retreat, including ecstatic dance, sound healing, cacao experiences, specific types of yoga, expressive healing arts or meditation.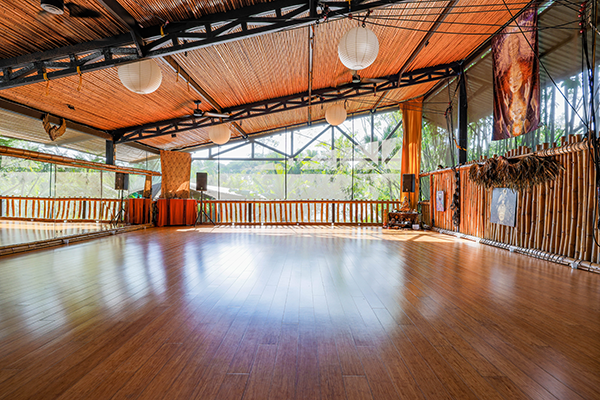 Book a call with our co-founders Brendan and Sofiah.
Please take a moment to fill out our retreat questionnaire below, after which you will be taken to a calendar to book a call with Sofiah Thom or Brendan Jaffer, the Co-founders, to explore pricing and available dates and envision your retreat with us. Feel free to contact us at reception@danyasa.com with any additional questions you might have.